In the Garden Blog
Cincinnati's Garden Blog
Watering Container Gardens
Container gardening is a perfect way to bring versatility and beauty to your garden. What can you grow in a container? You can plant edibles, annuals, perennials, and even small trees. And, it's easy! This week, we want to share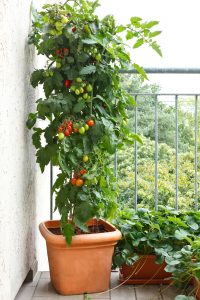 our tips on watering container gardens and how to reduce your watering.
How can I reduce watering container gardens?
There are a couple of things you can do to reduce watering:
First, Soil Moist is truly is a lifesaver for container gardens.  The small polymers, when mixed into the potting soil, absorb water and swell up to 20 times or more their original size.  When the soil dries out, they release water back into the soil which helps cut down on your watering.
You want to mix it into the bottom 4/5 of the potting soil. Then, you should add the rest of the potting soil without it.  It keeps it lower in the soil and gets plants to root deeper.  Please read the label before using it.
Note:  Also, for existing planters add this by taking a pencil and poking it down into the soil to create several cores.  Then, sprinkle in a few Soil Moist crystals and fill back in.
2. Secondly, you can add Coir to your potting mix.  It has tremendous moisture-holding capabilities.  Today, you'll find it showing up in many potting mixes.
Do you need the basics of creating a container garden? Click Here!
Cincinnati Gardening Made Simple? Have a container garden question? Ask our container garden experts!
---