In the Garden Blog
Cincinnati's Garden Blog
How to Grow a Herb Garden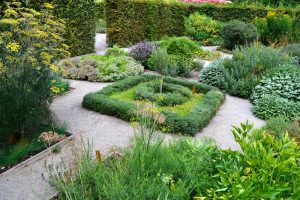 A Cincinnati garden is not complete without herbs. 
An herb garden will add incredible flavor and nutrition to your meals. Also, a pleasant aroma to your garden.
How to Grow An Herb Garden?
An easy way to create an herb garden is by planting in containers. A container herb garden allows flexibility on where you place your garden outdoors and the option to grow indoors.
Watch Natorp's Ron Wilson demonstrate how easy it is to grow an herb container garden.
Where to get started? Why not start with easy to grow herbs? 
Here are seven versatile and easy to grow herbs for the garden:
1) Basil
A spicy Bush basil has tiny leaves, so no need to chop them up to use! A quick-growing plant that is perfect for everything from salads to pastas.
2) Chives
Chives are replenishing herb, cut and they come again! The flowers of onion chives make a beautiful magenta herbal vinegar.
3) Vietnamese Coriander
If you love cilantro, try this low growing plant. It doesn't bolt to seed like traditional cilantro. Vietnamese coriander has a delightfully spicy flavor.
4) Thyme
If you like an upright plant, French or English thyme is your go-to thyme. Lemon thyme is semi-upright thyme that trails nicely over container rims.
5)Rosemary
Rosemary is a piney tasting herb that is drought tolerant. Barbecue Rosemary makes a stunning upright specimen plant. Its stems can be used as skewers.
6) Parsley
Both Italian and Old Fashioned Parsley will produce an extended harvest. Cut from the outside in.
7) Mint
With its aggressive growing nature, mint is the perfect herb for growing in containers. For a more mild taste, plant spearmint.
On Natorp's Nursery, we grow over one hundred kinds of herbs for the garden. We have traditional to exotic herbs, Take a look!
Cincinnati Gardening Made Simple! Have a question? Ask our herb experts!
---