In the Garden Blog
Cincinnati's Garden Blog
How To Choose the Right Maple Tree
How to Choose the Right Maple Tree
Native to North America, it was the Native Americans who discovered the maple tree using the sap for making maple syrup. It was also used for medicinal purposes.  Then, the Pioneers used it for making dyes and found it to be an excellent wood for a fire. Today, the maple is treasured for its great form and show-stopping color.
On Natorp's Nursery, we grow over sixty varieties of maples from seven different species. Natorp's Maple Tree Collection was chosen based on the individual characteristics and overall hardiness in the Greater Cincinnati area. With so many choices, we thought we would help you find the right maple tree for your yard.
What are some of the different types of maple trees?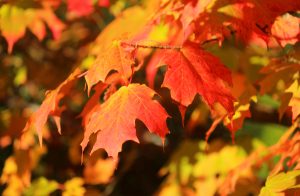 Sugar Maple Tree (Acer saccharum)
In the fall, Sugar maples are standouts with golden to reddish-orange foliage colors. Sugar Maples are definitely one species of maples that you stop and admire and take pictures. Keep in mind great selections like Fall Fiesta Sugar Maple and drought-tolerant maples like the Legacy Sugar Maple.
Find your perfect Sugar Maple!
Hybrid Maple (Acer x.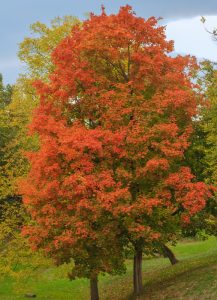 freemani)
A cross between Red and Silver Maples, these hybrids combine the best features of both parents. The hybrid maples are drought-tolerant, strong branching, and faster-growing. They bring excellent color to the fall landscape.  'Autumn Blaze', 'Autumn Fantasy', and 'Firefall' are a few examples of the new hybrid selections. The hybrid are great city trees.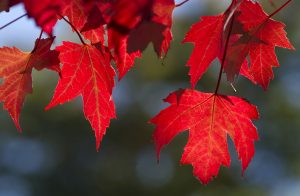 Red Maple (Acer Rubrum)
Redpointe Red Maple is a perfect example of why the Red Maple is a standout in the landscape with a pyramidal shape, exceptional disease resistance, and consistently striking red color. Red Maples are prized for their silvery bark, fast growth, and yellow-to-red fall foliage.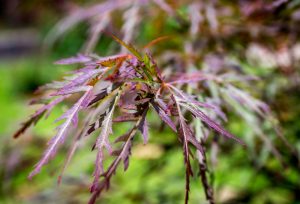 Japanese Maple Tree (A. palmatum)
Japanese Maples are a favorite choice for a specimen tree with their typically smaller size, unusual bark, leaf shapes and colors. Choose from many selections including the Red Dragon Japanese Maple to the Bloodgood, find the right Japanese Maple for your landscape.
The Norway Maple is a tree that is often chosen for street plantings. It is a vigorous grower that is also drought tolerant, making it an excellent choice for adding a big impact to the landscape.
Find your perfect Norway Maple!
What should you consider before planting your Maple Tree?
Location and Space for a Maple Tree
Keep in mind the overall mature sizes and allow room for them to grow, including their root systems. With so many selections, the range of sizes can vary from 6' to 75' plus.
Soil Needs of Maple Tree
Maples are typically tolerant of our range of soil pH. You will need to check drainage as some will tolerate more moisture than others.
Do you need help finding the right tree?
Visit Natorp's tree experts that grow over 10,000 trees each year here in Cincinnati. Our experts can help you find the perfect Maple Tree for your landscape. Take a look at our Maple Collection!
Have a question? Ask our tree experts!
Making Cincinnati gardening simple!
---