Nursery Behind the Scenes
Welcome to the heart of Natorp's!
Natorp's Plant and Tree Nursery
Welcome behind the scenes at Natorp's Plant and Tree Nursery! How long has Natorp's been growing plants? In 1916, William A. Natorp arrived in Cincinnati from Germany, and when he realized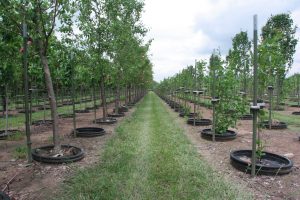 the quality plants were not available that he was accustomed to in Europe, he decided to grow his own for his landscape clients.
Today, we grow over one million plants, including trees, shrubs, perennials, annuals, and edibles on our 333-acre nursery.
Go Behind the Scenes
We hire plant lovers dedicated to finding the best plants for the Cincinnati gardener. Throughout the year, our talented growers test prized heirlooms to the latest plants for our customers. They meticulously choose a plant collection that meets our high standards. The plant collection is introduced to our customers in the spring and fall. This dedication to quality is the reason Natorp's has been growing since 1916.
What is currently growing at Natorp's? Visit our Natorp's Online Plant Store and take a look at the virtual tour of our plant and tree nursery.
Take a Virtual Tour of Natorp's Plant and Tree Nursery
Have a question? Ask Cincinnati's Garden Experts!
Are you looking for plants? Natorp's entire plant and tree collection is available online Click Here!