In the Garden Blog
Cincinnati's Garden Blog
Fast Growing Trees: Create Privacy for Your Landscape
How can I create privacy in my backyard?
An easy way to create privacy is to plant a screen with fast-growing trees and ornamental grasses. We asked our tree experts on their advice for choosing fast-growing trees and grasses.
What is the best type of fast-growing tree for creating a screen?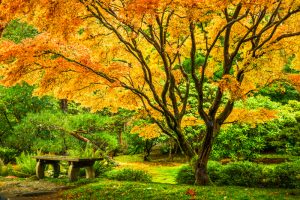 You want to be selective when choosing a fast-growing shade tree. Some trees can be week wooded and short-lived. At Natorp's, we often recommend hybrid maple trees. Hybrid Maples is a cross between the silver and red maple. It has all the great features of red maples with the faster-growing habit of the silver maple. A couple of maples to take a look at would be Autumn Blaze, and Autumn Fantasy.
On the nursery, we grow 93 kinds of Maples. Visit our tree experts on the nursery or search our plant library for other fast-growing options.
What ornamental grass would you suggest for creating privacy?
Ornamental Grasses are versatile and can be used as specimen plants, hedges, and for creating a screen. With striking foliage and great seed heads, they bring a wonderful look to the garden while creating privacy. Also, with a little help from the wind adds some graceful movement to the garden. While many enjoy the sun, there are also ornamental grasses that enjoy the shade like the Japanese Forest Grass.
Grasses certainly enjoy the sun, but if you're looking for a grass that tolerates the shade, here's the one.  It's called Japanese Forest Grass. A shade-loving, grass-like plant that forms a mound of arching, yellow foliage. The foliage takes on tones of pink and rose in the fall. It provides excellent color and texture for borders, beds and mixed containers.
On Natorp's Nursery, we grow 65 kinds of ornamental grasses. Click here to find the perfect grass for your needs!
Do you need help creating privacy for your yard? Ask a plant expert!
---