Vegetables, Fruits and Herbs
Edible Plants
Make Your Garden Delicious!
Vegetables, Fruits & Herbs
Find the perfect vegetables, fruits, and herbs for your garden by exploring Cincinnati's largest collection. At Natorp's, we are foodies and love plants. So, imagine our collection of edible plants! We invite you to experience Cincinnati's largest collection of edible plants for the garden!
Imagine over 150 kinds of herbs, over 100 kinds of tomatoes, and over 75 types of peppers!
We love finding great heirloom tomatoes, but we also love delicious herbs and the latest hot peppers for the garden.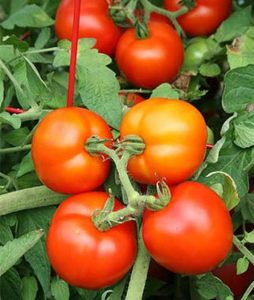 There are so many great edible plants available to gardeners. Whether you plant them in the ground or in a pot, bring great food right to your backyard.
Vegetables, Fruits, and Herbs!
Vegetable Plant Collection
Discover Cincinnati's largest vegetable plant collection including Asian greens, collards, cucumbers, and more. See a list of available vegetables!
Pepper Plant Collection
From the world's latest hot pepper to sweet bell peppers, you will find over 75 types of peppers to add to your garden. See a list of available peppers!
Tomato Plant Collection
Are you looking for something new in the world of tomatoes?  Natorp's grows over 100 types of tomatoes for the garden. See a list of available tomatoes!
Herb Plant Collection
Natorp's grows Cincinnati's largest selection of herbs. Come experience over one hundred and fifty types of herbs for the garden! See a list of available herbs!
Fruit Plant Collection
Find the perfect fruits for the garden! We have a great selection of fruit trees and bushes that are perfect for the ground or containers.
As avid foodies and plant lovers, we always find new and exciting additions. For the current list, Click Here!
Cincinnati Gardening Made Simple! Have a question? Ask Cincinnati's Garden Experts!