In the Garden Blog
Cincinnati's Garden Blog
How to Protect Your Plants from Cicadas
Cicadas will be arriving in Cincinnati. While many gardens will not experience cicadas, if they come to your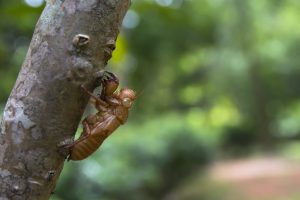 garden here are tips on how to protect your plants from cicadas:
When will cicadas arrive?                          
They typically arrive mid-May, or when the air and soil temps reach a consistent 64-65 degrees. A promising sign that you will be experiencing these cicadas is the mud chimneys seen under trees and in lawns just before they emerge from the ground. 
Important facts about Cicadas
They have no mouths. Cicadas cannot feed on your plants. They have a straw-like tube to suck plants' juices. However, it rarely causes plant damage. In general, if cicadas will not damage larger trees and typically will cause only minimal damage to smaller trees and shrubs.
What to expect from cicadas?
They emerge at night, climbing up on the sides of trees, poles, walls, etc., where they molt into adults. From that point forward, they have three things on their to-do list to find a partner and mate, lay as many eggs as possible, and die. Typically, the process takes 4-6 weeks.
How does plant damage occur from cicadas?
The female has a blade-like ovipositor to make openings in sections of tree and shrub branches. She will lay her 30 -50 eggs in each opening. A female will lay as many as 400-600 eggs in multiple branch slits. And this is where cicada plant damage can occur with slices causing the branch tip to die or even break off.  
On larger trees, it's usually not much of an issue (nature's way of pruning). Female Periodical Cicadas may deposit eggs in virtually any tree, but evergreens are sappy and, in most cases, are left alone. But on smaller trees, this damage can be devastating to the plant if there are high cicadas populations. 
Plants known to get damaged by cicadas include fruiting trees, ornamental flowering trees, grapes, dogwood, ash-oak-beech-hickory-maple-willow, viburnum, rose of Sharon, roses, holly, raspberry, magnolias, lilacs, Japanese maples, hawthorn, rhododendron, junipers, arborvitae (not all evergreens are exempt), smaller specimen trees, younger or newly planted trees, etc. Over 270 species of plants are noted as hosts for egg-laying periodical cicadas and will vary from site to site.  
How to protect your plants
In heavy populations, if needed, protect smaller trees and shrubs. The best way to protect your plants is to cover them with a protective material such as mesh, mosquito netting, or grow cover during the height of the emergence of cicadas. It creates a physical barrier to keep the female cicadas away from the plant.  
Tips for Covering Your Plants
Cover your plants 7-10 days after the emergence of cicadas. (Make sure they are actually in your yard.)
Hose cicadas off plants and then cover. 
For installation of Cicada Netting:  Covering younger trees and shrubs with mesh netting allows air to continue flowing and precipitation to reach the plant while protecting the plant. 
One method of wrapping trees is the Lollipop Method. Drape the mesh over the tree like a wrapper over a lollipop. (If multiple pieces are needed, take small zip ties to knit the open sides together.) Gather the mesh at the tree's base using a larger zip tie to fit the tree's circumference. 
For smaller shrubs, drape over the shrub and anchor to the ground.
Leave covering on until most cicadas have died off (about 3-4 weeks). 
Note:
Chemical sprays are generally not recommended, as their sheer numbers and flying in and out makes chemical control not very effective, and they do not use soil treatments. 
Naturally Controlling Cicadas
Natural controls include hosing them off, catching them, knocking them off into a bucket of soapy water, vacuuming them off the plants, etc. Many animals will feed on them, including birds, fish, dogs, monkeys, and yes, the ever frightful and scary-looking Cicada Wasp Killers.  
Pruning Plants After Cicada Damage
Prune the affected branch tips within 4-6 weeks of the eggs laid into the branches. By destroying those pieces, you can eliminate some of the eggs from hatching and the larvae falling back into the turf.  
Cincinnati Gardening Made Simple! Have more questions? Ask our experts!
---