In the Garden Blog
Cincinnati's Garden Blog
Why should I deadhead my flowers?
Have you ever wondered, "Why deadheading flowers is important?"  This week, we are discussing why you should deadhead flowers.
What is deadheading?
Deadheading is the act of removing spent flowers from a plant.
Why deadhead your flowers?
By pinching off the old flowers, it helps to stimulate new growth creating more flowers.  Some plants need a simple removal of the spent flower, whereas others may need the removal of the spent flower as well as the stalk on which it's growing.  This process is used on both annuals and perennials in the garden.
Deadheading is similar to a pinching or pruning process that helps keep plants more compact, rather than getting long and lanky.  By removing the spent flowers and a bit of the stem below the flower, you're encouraging a fuller plant.  And of course, with more new growth, in turn, you'll have more new flowers.
Also, it helps to eliminate the plants trying to go to seed which can take a lot out of the plant.   Instead of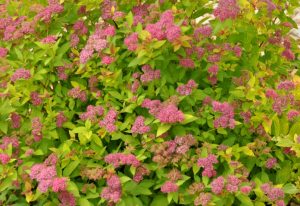 producing seed heads, the energy can be sent to the plant and its foliage. It helps stimulate a second flowering period from plants that may typically flower only once.
A good example is the early summer flowering Spirea.  Once it has finished flowering, lightly shear off those spent flowers. Within a few weeks, the second flush of new growth will appear, along with the second period of flowering.  For some perennials and woody plants, even if deadheading doesn't help stimulate more flowers, it definitely helps to keep your plants looking great for the summer season.
Cincinnati Gardening Made Simple! Have a plant question? Ask our plant experts!
---