In the Garden Blog
Cincinnati's Garden Blog
How to Prepare Your Spring Garden
As a Cincinnati gardener, your garden is exposed to Cincinnati weather. This spring, before you plant your trees and flowers, make sure to get your garden plant-ready by prepping your beds for spring planting. It is as easy as one, two, three!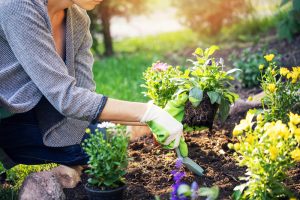 How to Prepare Your Spring Garden
Get rid of winter debris in your garden beds by raking and removing sticks, leaves, and blown-in papers. Also, be sure to remove last year's annuals and overwintering perennials. Don't forget to rake out any winter weeds!
You are what you eat.  Also, your plants are as healthy as their environment. Be sure to prep your soil in your flower beds. You can prep your soil for spring by raking or tilling in soil amendments such as Pine Soil Conditioner, The Cow (composted manure), etc. By adding organic matter, it creates soils that are alive with microbial activity, earthworms, etc. which will create an environment to grow healthy plants.
Plan before you plant your spring garden. This will save you both time and money.
Get Help Planning Your Spring Garden
Do you need help planning your garden? At Natorp's, we have great resources to make planning your spring garden easy.
Natorp's Plant Experts – When the outlet opens, our experts are located throughout Natorp's Nursery Outlet to provide expert advice on plant selections.  Look for their orange Natorp shirts!
If you need design and installation, contact Natorp's Landscape at  (513) 398-4769
  Listen to Natorp's gardening expert Saturday mornings – In the Garden with Ron Wilson, on 55KRC.
Cincinnati Gardening Made Simple! Do you have a question? Click Here
---