In the Garden Blog
Cincinnati's Garden Blog
Perennials for a Shade Garden
This week, we answer, "What are the best perennials for a shade garden?" 
For shady characters to grow in that shady garden take a look at these shade lovers: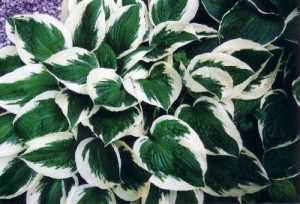 There are so many great hostas today with excellent foliage and flowers to brighten up any shady area. Find the Perfect Hosta!
A shade-loving favorite is Herman's Pride Lamiastrum. It is a shade-loving ground cover with great variegated foliage and yellow flowers.
Bring lovely blue spring flowers and great silver-veined foliage to your garden. Take a look at Jack Frost and Alexander's Great, or Looking Glass. Find the Perfect Brunnera!
A lovely spring-blooming perennial with silver-spotted foliage and raspberry-red flowers that fade to blue. It is a tough, drought-tolerant perennial that brightens up any shady garden. Find the Perfect Lungwort!
A wonderful foliage ground cover with white bell-like flowers. Find the Perfect Lily of the Valley!
The rocket with bold, handsome foliage with spikes of bright yellow flowers getting up to 5' tall – pretty impressive in the shade. Take a look!
An excellent variegated shady ground cover.  Take a look!
With heart-shaped leaves, it loves the shade and will compete with tree roots. It flowers yellow and red.  Take a look!
Ferns
And, don't forget the ferns! So many beautiful ferns, some evergreen, some deciduous, some growing low, and others reaching 4-5 feet.  Take a look!
Caring for Your Shade Garden
When it comes to shade gardening, there are varying degrees of shade. In some cases, shading from surrounding plants can make these locations dry. So, keep those factors in mind. You may need to thin a few plants to get away from deep shade. Also, you will need to water more often as these plants get themselves established, due to the lack of rainfall if protected by larger plants.
Cincinnati Gardening Made Simple! Have a question? Ask our experts!
---