In the Garden Blog
Cincinnati's Garden Blog
Natorp's grows over 80 types that do great here in Cincinnati. I am not joking! Mr. Natorp loves peppers,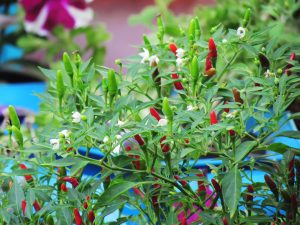 particularly hot peppers! With so many choices from hot to sweet, there is a perfect pepper for every garden. Plus, peppers have large amounts of vitamins C and A along with other healing nutrients.
Today, let's talk about hot peppers, from the capsicum family. They're the ones that have varying degrees of capsaicin which gives them their heat.  Capsaicin is an important ingredient in healing ointments and creams, as well.
And unlike Ron Wilson, who tastes every hot pepper we grow, including the Ghost Pepper and Carolina Reaper (so far the hottest one we carry) I stick to jalapeños, serranos, tobacco, and cayenne for culinary purposes.
The spicy varieties are known as chile peppers. The word "chile" refers to the actual pepper. The word "chili" refers to the food we make, like chili with beans.
What quells the heat of hot peppers? Lots of opinions out there, but in my world, I reach for anything dairy.
Take a look at our Hot Pepper Collection!
Tips from Rita's garden:
When sweet bells get completely ripe and turn red, the pepper gets sweeter. Hot peppers get completely ripe and turn red, the pepper gets hotter.
You should never handle hot peppers without wearing gloves!
HOMEMADE HOT SAUCE
This is so easy and makes wonderful gifts from the kitchen poured into small bottles. If you want a hot sauce that tastes like what you buy, you can use all Tobasco or cayenne.
Heat is measured in Scoville units. Serranos are hotter than jalapeños, and Tobasco and cayenne are hotter than serranos. (Check out the Scoville units for each pepper on our site).
Makes about 2-1/2 cups
1 pound stemmed fresh hot chile peppers. I like jalapeño and serrano with a few tobacco peppers tossed in
2 tablespoons sea or Kosher salt or more to taste
1-1/2 cups 5% acid clear white vinegar
Pulse chiles and salt in a food processor until coarse puree forms. Be careful here – don't breathe in the fumes! Pour into a quart jar, loosely place a lid on, and let stand at room temperature for 12 hours. This helps it ferment just a teeny bit. Then stir in vinegar and again place lid on loosely. Let stand at room temperature for 24 hours or up to 7 days. Taste a bit each day; the longer it sits, the better/deeper the flavor becomes.
Pure again in a food processor until smooth. Then place a fine-meshed sieve over a funnel. Strain into glass jars.  Now after you strain it, you'll notice it will become thinner and will separate. Just shake before each use.
Tip from Rita's kitchen:
Place a small clove of smashed garlic into each jar, or a dash or so of garlic powder.
Keeps 4 months in the frig.
Adapted from Bon Appetit.
Have a question? Ask our pepper experts!
---