In the Garden Blog
Cincinnati's Garden Blog
Are you planning on growing hostas? They are excellent plant choice, especially for new gardeners because they are low maintenance and a long-living plant.
Choosing Hostas for Your Garden
Hostas come in a wide range of colors, sizes, and foliage shapes. Today's, hostas can be huge plants such as Empress Wu or Big Daddy or smaller varieties like Curly Fries. When choosing your hosta, you want a plant that will thrive in the conditions of your garden. 
What conditions for growing hosta?
Hostas grow best in moist soil and light to medium shade. You can grow them both in the ground or containers. Some of the smaller varieties are more suitable for container gardening. You can plant hostas in both the spring and fall.
Kinds of Hostas
On Natorp's Nursery, we grow 70 varieties of hostas for the garden. Here are some favorites:
A striking plant with huge, blue-green leaves with heavy texturing. The foliage is accented by large white summer blooms. This slug resistant variety makes an excellent specimen plant in shady gardens. Learn More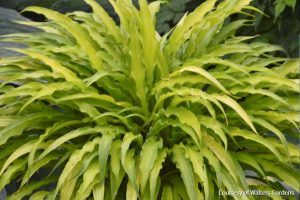 Curly Fries Hosta
A fun addition to containers and beds, this variety has narrow, rippled leaves with chartreuse color. Lavender summer flowers add enormous appeal. Brighten shady areas and add texture with this perennial. Learn More
The bright yellow leaves retain a yellow color throughout the growing season and brighten up any shady spot. The leaves are accentuated in summer by lavender flowers. Use as a focal point or plant in groups for a brighter show.
This fantastic specimen style that has large, glossy, chartreuse to yellow leaves with attractive corrugation. It is tolerant of some sun and has good slug resistance. Use as a focal point or plant in groups for a stunning garden display Learn More
Find your perfect hosta, take a look our Hosta Library!
Cincinnati Gardening Made Simple! Have a question? Ask our hosta experts!
---