Choosing Tomatoes for the Garden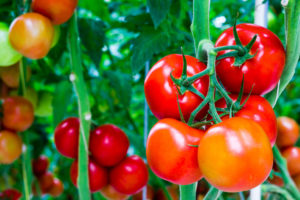 At Natorp's, we grow over 100 types of tomatoes for the garden. Why? Because here in Cincinnati we love our tomatoes! It can be difficult choosing the right tomato for your garden. So, we have created a Tomato 101.
What are the differences in tomatoes?
Hybrid vs. Heirloom 
Hybrids are the results of two different varieties of cross-pollinated to create a tomato which has the best characteristics of the parents. This takes into consideration attributes such as fruit size, disease and virus resistance, higher yields,  dependability, less care, specific plant size, etc.
Heirlooms are open-pollinated selections that have been handed down for generations and are known for better flavors, very colorful and interesting fruit, The size and color may vary on the same plant. An heirloom tomato generally is not disease resistant or as productive as hybrids.  But, heirlooms make up for it in flavor.
Grafted Tomatoes
Grafted tomatoes are heirloom top grated on to a hybrid root system. They try to achieve heirloom fruit with a disease resistant and durable root system
They are two heirlooms that are cross-pollinated to get the best of both parents – but is now no longer an 'heirloom' tomato.
What is the difference between Indeterminate Tomatoes and Determinate Tomatoes?
Indeterminate Tomatoes
Indeterminate types continue to grow, flower and fruit all season, and require more trellising, staking, support system, etc.  But they produce all season long, and some claim better flavoring from indeterminate vs. determinates.
Determinate Tomatoes
Determinate selections (sometimes called 'bush types') grow to a certain size, flowering, and fruiting, usually large producers, but then stop at some point, finish ripening the fruit, and are finished for the season.  Great for containers or smaller space.s
What you can expect in the colors of tomatoes
Did you know there is a variety of colors of tomatoes? Here is what you can expect in the array of tomatoes:
 Yellows and Orange Tomatoes are less acidic and sweeter flavor than the reds and pinks
Purple, green and striped heirloom selections are delicious as well!
Then, you want to think about skin thickness, fruit sizes, maturity, and uses for your tomato
Special Garden Tip: Don't plant all tomatoes that mature late or early.  Plant so that you have a crop all season long.
The good news, we have made it easy to choose the right tomato. Click Here to See Our Tomato Guide!
---