In the Garden Blog
Cincinnati's Garden Blog
Creating a Butterfly Garden
The great news if you have a sunny spot, you can create a butterfly garden! Have you visited the Krohn Butterfly Show or the Cincinnati Zoo Botanical Garden's Butterfly Garden and wished you had beautiful butterflies in your garden? Let's talk about creating a garden filled with butterflies.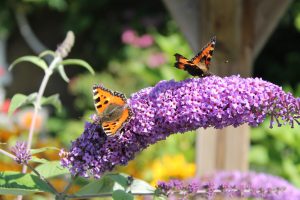 Creating a Butterfly Garden
Choosing a location
You want a sunny spot in the garden with a bit of wind protection.
Design Your Garden
To create a garden that looks great year-round you want to mix shrubs, perennials, and annuals. In your design, you can plant larger plants like salvia, butterfly bush, and lavender in the back of your beds.  Next, you can plant perennials. Lastly, do not forget to add seasonal color with annuals.
Choosing the Right Plants
You want to choose butterfly-friendly plants that are high producers of pollen and nectar. They use their sense of smell and sight to determine if it is a nectar-rich plant. Did you know they smell through their feet? And, they love the brightly colored plants.
Top 12 Butterfly Friendly Plants
In addition to Milkweed and Butterfly Weed, here are 12 top plants for attracting butterflies into your garden.  But don't stop there; we have hundreds of pollinator options to help bring those winged wonders into your garden or container gardens.
Here are some favorites of the wing wonders!
Natorp's grows Cincinnati's large collection of butterfly-friendly plants, Click Here to See Our Collection.
Cincinnati Gardening Made Simple! Have a question? Ask a garden expert!
---