Tree and Flower Questions
Cincinnati Gardening Made Simple! This week, we are answering your fall tree and garden questions. From pansies to container-grown trees, we have the answers to your fall tree and flower questions.
"Is Joe Pye Weed the same thing that I'm seeing in non-maintained areas that has the tall and a maroon flower on top?"
I'm guessing that what you're seeing is Iron Weed, not Joe Pye Weed, although very similar in appearance.  In the perennial beds, you'll probably see more Joe Pye Weed growing.  We grow three selections: 'Phantom', 'Gateway', and 'Chocolate'.  Joe Pye Weed is a great late season bloomer and perfect for those pollinators!
"Will pansies grow in the winter?"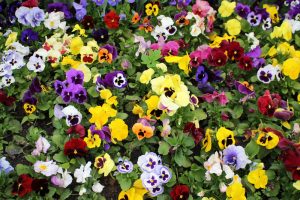 It depends. If we get good snow cover, the winter temperatures aren't too cold and the pansies are well rooted in, yes, many do survive the winters. And, begin flowering next spring.  But if anything, it will definitely keep flowering right up to the holiday season.
"When is the best time to dig and divide perennials?"
Late September through October, is a wonderful time to dig and divide perennials. And for those woody plants (trees and shrubs), if transplanting is needed, starting in October through early November works great.  Remember, FALL IS A GREAT TIME FOR PLANTING, so get out and plant those new trees, shrubs, evergreens, perennials, roses, grasses, etc.
"What is chewing holes in my purple plum tree?   And we've noticed a white coating on many of the leaves.  What do you suggest to treat our plum tree?"
This time of the year, nothing!  The holes in the leaves are late beetle or caterpillars chewing a few leaves and moving on, so you don't want to spray if you don't see something to spray for, and this late in the season, it's not worth spraying anyway.  Those leaves will be falling soon so holes in the leaves now are not an issue.  As for the white coating, I'm guessing a little powdery mildew, and again, this late in the season, not worth spraying for!   Not much in the insect and disease world this late in the season we'll be spraying to control.  A few things maybe, but not much.
"When should I apply I systemic soil drench for boxwood leafminers and boxwood psyllids?"
I recommend Mid-October.  Use either Bonide's Tree and Shrub Insect Control or Optrol.  This helps control the 3'rd and 4th instar larvae stages of the leafminers, as well as the psyllids next spring.
"How should I handle planting my container-grown tree with thick roots on the outside of the rootball?"
Yes, if the roots are thick along the inside of the pot and growing in a circle, it's important to massage those roots lose so they will grow outward rather than in a circle.  And this goes for any container-grown plant!  Sometimes you can massage them loose, but most of the time you have to use a soil knife or sharp spade and cut them a bit to loosen them up.  Be aggressive!  This is very important to the survival of the newly planted tree!
Have a tree or plant question? Ask our plant experts!
---