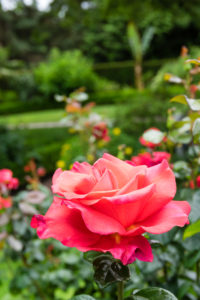 The Natorp's Rose Collection all have beautiful blooms, some fragrant but most importantly all do well in the Cincinnati garden. Roses are prized in the garden for its incredible fragrance and the elegance it brings to the garden. Natorp's one hundred and fifty-five types of roses were carefully selected by our expert growers.
A cherished plant for the garden deserves careful selection including yours. We encourage gardeners to do their research when before purchasing their plant. Besides aesthetics, you want to consider the amount of time available for any maintenance required by the plant. The great news with so many choices, there is a perfect plant for every garden including container gardens.
What type should you add to your garden? Here are some things to consider before purchasing your plant:
What type Floribunda, Hybrid Tea, Grandiflora, and Shrub, etc?
Are you interested in a climber?
Would you prefer a groundcover?
What is the space requirement?
What is your personal color preference?
Are you looking for fragrance in your garden?
How can we help?
The great news is our team is always available to help answer your rose questions. Also, you can find the perfect plant by researching our Library.
Have a question? Ask our experts!